The most resilient defense of your printing infrastructure

The most resilient defense of your printing infrastructure
INTEGRATING ENDPOINT PRINTING SECURITY, ADDRESSING CYBER THREATS IN REMOTE WORKING ENVIRONMENTS
The increased frequency of cybercrime over the last few years has filled the security chain of businesses with numerous weak links. Accessed by multiple users and connected to the corporate network, devices and the internet, business printers bear the risk to turn into a vulnerable hub for hazardous cyber-attacks.
0
%
of companies do not apply any security policy to their printing.
0
%
of business printers do not use any anti-malware software.
0
%
of organizations have not put in place a threat monitoring process for their printers.
At the same time, the rise of remote working has changed user behaviors, creating new challenges in endpoint security for business IT departments.
0
%
increased vulnerabilities for the remote workforce
0
%
more cyberattacks compared to the beginning of 2020s
0
%
of endpoint malware breaches start with a user click -either on an email, a chat, or a webpage
HP WOLF SECURITY, THE BEST-IN-CLASS ENDPOINT SECURITY SOLUTION
Leveraging its long-term collaboration with HP, iNFINITUM implements HP Wolf Security, the most comprehensive solution for secure printing. Starting at the hardware level and deploying industry-leading endpoint security software, HP Wolf Security reduces the addressable attack surface and enables remote recovery from firmware attacks, fortifying your printers' first line of defense.
HP WOLF SECURITY INCLUDES THE FOLLOWING SERVICES AND SOLUTIONS:

Certified cybersecurity advisors
help you implement a comprehensive plan
tailored to your remote,
"classic" or hybrid environment.

The industry's most advanced and comprehensive
print security features
help you manage your fleet
and raise your productivity.

State-of-the-art services
to securely migrate your print ecosystem
to the cloud, from the office,
home or public/shared spaces.

A cloud-based solution
allowing users to print from computers
and mobile devices
while securely storing their print data.

A single, automated security policy
across your entire fleet
of HP printers.

The firmware that ensures your printers
are updated with the latest security features,
protecting your print infrastructure
for years to come.

The app that safeguards your data
while you transform
your digital processes.
Even if cybercriminals target your printing infrastructure, HP Wolf Security protects your network with the world's most secure HP business printers, providing built-in security features such as:
Secure Boot
With automatic critical code validation. If an anomaly is detected, the device reboots to a secure recovery state.
Unique password
A unique password per printer that prevents intruders from accessing each device's settings.
Write protected memory
Preventing the intrusion of malicious code while printers are running.
Automatic firmware updates
Ensuring that your printers are running protected against the latest known threats.
Firmware code signature validation
Validating the memory code, notifying you in case it is not authentic.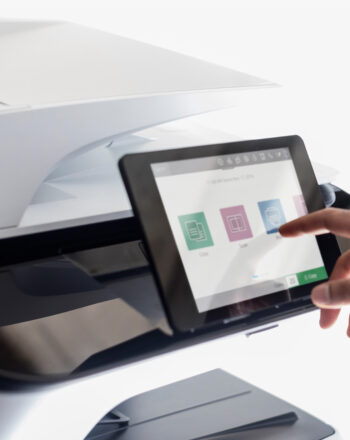 MAXIMIZED PROTECTION WITH STRONG, BUILT-IN SECURITY
FEATURES FROM HARDWARE TO THE CLOUD

IMPLEMENT HP WOLF SECURITY AND BENEFIT FROM:
iNFINITUM: PROVEN KNOW-HOW IN PRINTING SECURITY
The data of your organization possess the value of a precious corporate asset. Their protection should be given highest priority, while your printers should not be an exception to this. iNFINITUM can deliver leading end-to-end security for your printing infrastructure through HP's comprehensive portfolio of multiple printer security features, solutions and services.
Thanks to a series of integrated implementations of dedicated projects in corporate organizations of all sizes, iNFINITUM has extensive knowledge and experience in printing security, as well as a specialized business unit, focused on Printing & Imaging solutions.