Utilize the most powerful tools to unlock your full business potential
ACHIEVE AN EFFICIENT WORK ENVIRONMENT, BOTH LOCALLY AND IN THE CLOUD
Tired of being stuck to legacy hardware and systems that are often inflexible and costly to maintain, today's businesses are seeking scalable solutions to create and configure secure work environments. A dedicated IT partner such as Infinitum can meet business' requirements with high-end, integrated solutions by Microsoft, a leading software and solutions provider for decades.
PRODUCTIVE INTEGRATION OF THE AZURE PLATFORM AND OFFICE 365 SERVICES
Infinitum is a Gold Partner of Microsoft in terms of implementing projects related to both Azure and Office 365 for small, medium, up to very large businesses. It also works closely with Veeam to provide backup/restore services on the Azure platform. Our company has extensive experience in every process related to these products, including:
• Migration
• Implementation
• Installation
• Training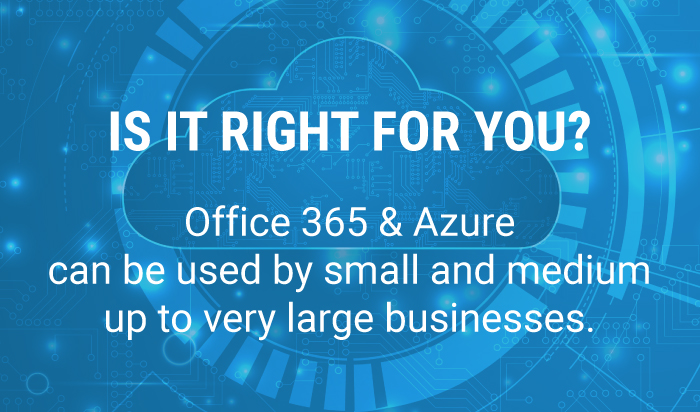 AN EXTENSIVE SET OF SERVICES FOR TOP-QUALITY WORKFLOWS
A cloud platform with a wider range of capabilities can give your organization the ability to deploy a highly extensive set of services for either private or public cloud use, providing:
Flexible Software as a Service (Saas) capabilities

Without the need for local installation/maintenance procedures.

Powerful Platform as a Service (PaaS) features

Developing software and supporting tools in the cloud.

Advanced Infrastructure as a Service (IaaS) resources

Leveraging virtualized computing technologies, such as Docker.

Excellent price-performance ratio

Combined with top scalability and security features.
Apart from including all the well-known applications (such as Word, Excel, PowerPoint, etc.) Office 365 is offered as a SaaS (Software As A Service) delivered through the cloud. Infinitum is able to support any organization integrate Office 365 on an ongoing basis, ensuring:
Higher levels of workflow quality and productivity

While retaining the value of the initial investment.

Streamlined security for all applications involved

Facilitating the implementation of data security policies such as the GDPR.

Great integration flexibility

With centralized distribution of files to executives and customers, wherever they are.

State-of-the-art mobile capabilities

Deploying a dedicated MDM (Mobile Device Management) technology as well as the Microsoft EMS (Mobility Suite).
MORE SERVICES & SOLUTIONS
Find out what else we can do for you.