Capitalize on integrated communication solutions
INCREASED NEEDS FOR PHYSICAL OR DIGITAL COMMUNICATION
It has been estimated that a company executive spends about 35% of his time in meetings, while for higher, managerial executives this rises up to 50%. The people who make strategic decisions within organizations should use variable and efficient communication tools to have all the essential information at their disposal.
A DEDICATED TEAM FOR DESIGNING AND EQUIPPING MODERN MEETING ROOMS
Infinitum's experienced team of specialized engineers can take over the design and implementation of your company's meeting room, incorporating all the advanced technologies that will allow you to discuss – whether live or remotely – with your partners. Our meeting room solutions in collaboration with Epson, Logitech, Lenovo, LG, Cisco,  include:
• Video collaboration technologies, such us Multipoint video conference
• Support for all video calling platforms (Skype for Business, Hangouts, Cisco, etc.)
• Streaming / multicast on remote partners
• Interactive capabilities
• Telepresence solutions
• All the necessary structured wiring (power, network, data, media etc.)
• Installation of all related equipment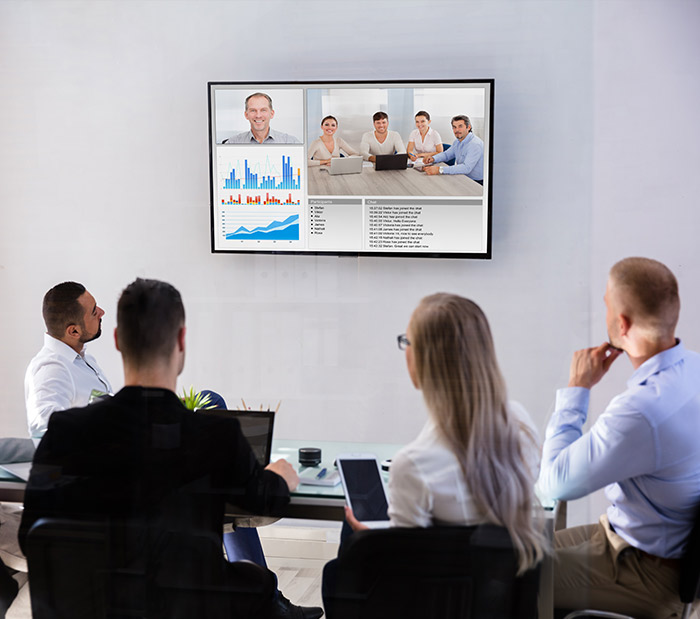 A MODERN AND FUNCTIONAL CONFERENCE ROOM FOR EXECUTIVES, ASSOCIATES AND CUSTOMERS
MORE SERVICES & SOLUTIONS
Find out what else we can do for you.