Leap forward to expand your connections
INCREASINGLY DEMANDING NEEDS FOR SAFE CONNECTIVITY
No matter how demanding your networking requirements and how complex your communication infrastructures are, Infinitum is certified from the industry's largest vendors to take over planning a new network infrastructure from scratch, expand your existing infrastructure, or just upgrade your legacy equipment.
PRODUCTIVE AND VERSATILE NETWORKING SOLUTIONS
Experienced executives and engineers will design and implement the optimal solution by analyzing your needs offering:
• All current implementation methods (copper, fiber optic, and microwave)
• Advanced connectivity and seamless communication
• Software-Defined Network (SDN) solutions
• World-class business-grade switching hardware from top manufacturers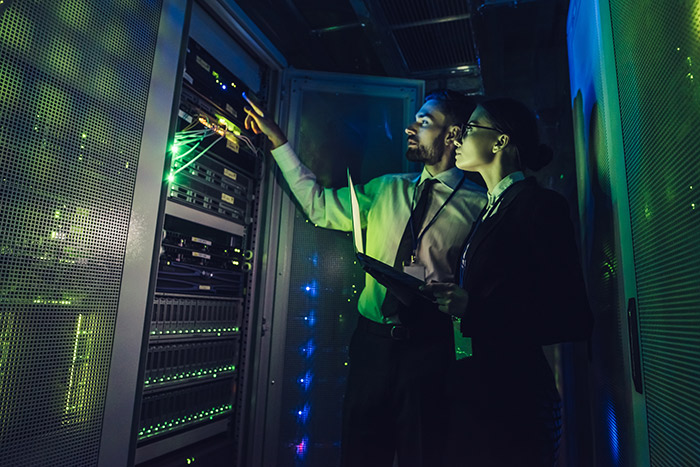 CONSOLIDATED NETWORK MANAGEMENT, LOWER OPERATING COSTS AND ENHANCED SECURITY
Simplification of the network management

With any change automatically deployed throughout the infrastructure.

Optimized data aggregation and analyzing

Enabling important strategic decisions for your business.

Reduced complexity in data management

With the help of specialized SDN tools.

Significant Return on Investment (ROI) and time gain

With high performance, energy savings, faster troubleshooting and addition of new features.

Enhanced privacy and protection

Against security threats and attack attempts to company networks.
Easy deployment and maintenance

Hardware settings, setting-up procedures and debugging can be managed from one location.

Get flexible control over your network

Fully manage your network from anywhere, even through a smartphone.

User-friendly network control

Leverages an easy-to-use- web interface.

Effortless remote administration

Installs devices and deploys settings without the physical presence of a network administrator.
MORE SERVICES & SOLUTIONS
Find out what else we can do for you.