STRONG PARTNERSHIPS, REWARDING RELATIONSHIPS.

Over 25 years
of experience in IT services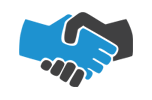 A long tradition of partnerships
with leading technology companies
in the Greek and international markets

A client-centric strategy combining
cost-effective financial solutions
and services with trustworthy relationships

A proven track record of successful
projects for major clients across
all business sectors

Full commitment, engagement
and consistency for effective cooperation
with our partners and clients
IT INFRASTRUCTURE, NETWORKING, SECURITY & CLOUD NATIVE SOLUTIONS
Our established collaboration with Dell-EMC as Platinum Partners has yielded excellent results in a variety of fields, such as Unified Storage, Data Protection, IT Unification, Enterprise Backup Software, Backup Purposed Built Appliances and corporate products (Servers, Storage, Networking, Commercial PCs/laptops).
We have achieved a high-level partnership with VMware as Enterprise Solution Provider, covering a wide product area to deliver high-end solutions for Management and Automation, Virtual Infrastructure and Virtualization Platforms.
Infinitum is a certified Premier Partner of Cisco Systems Inc. in Switching, Routing, Unified Communication and Security technologies. By implementing Cisco Spark™ cloud-based service, we provide a complete collaboration suite for teams to create, meet, message, call, whiteboard, and share—whether they're together or apart.
Docker Inc. is at the forefront of innovation as a container-as-a-service platform, helping us modernize traditional applications, such as monolithic, three-tier, SOA and microservices. Infinitum is Docker Inc.'s Authorized Value-Added Reseller and the sole distributor in Greece for Docker Enterprise Edition, which includes various levels of support, from next business day coverage to 24/7 and 24-hour response.
Our collaboration with Veritas as a Silver Partner includes enterprise-class backup and data protection solutions. Veritas uitlizes advanced ransomware, software-defined storage, multi-cloud, and other technologies to offer superior protection and high availability in modern workload environments.
Infinitum is a certified Platinum Partner and authorized service provider of Hewlett-Packard Enterprise. Cooperating with HPE means delivering state-of-the art IT, technology & enterprise products, solutions and services to accelerate digital transformation with results-driven innovation. Infinitum has also attained an Aruba Gold Partner certification provided by Aruba, a subsidiary of Hewlett-Packard recognized worldwide as an industry leader in wired, wireless and security networking solutions.
As a Microsoft Gold Partner, Infinitum has implemented some of the most advanced Microsoft solutions on Management and Virtualization, tailored in the best possible way to fit business needs in order to maximize productivity in a cost efficient way.
As a Gold Partner of WatchGuard, we are able to deliver cutting-edge cyber security technology through easy-to-deploy, easy-to-manage, industry-leading solutions of network security, secure Wi-Fi, multi-factor authentication, and network intelligence products and services.
Infinitum as an authorized Partner of HAProxy is committed to support highly complex infrastructures, offering the HAProxy Enterprise-level Solution, a package that includes Deployment, Access to Zero Day Patches as well as Support Services.
Incorporated to Alcatel network as an Expert Business Partner Infinitum is committed to providing tailored product offers to customers in order to accommodate their requirements for a broad range of markets and industries.
We collaborate with Lenovo as a Business Partner and authorized service provider, offering innovative consumer, commercial and data center technology through high-quality, secure products and services that cover PCs, workstations, servers, storage, networking, software , smart TVs and a family of mobile products like smartphones, tablets and apps.
We have established a long-term partnership as Veeam ProPartner Platinum Reseller, implementing high-end, next generation Veeam solutions to meet some of the most demanding Backup and Recovery challenges.
Fortinet offers extended and truly integrated security even to the most demanding IT infrastructure. Working with Fortinet, we provide our customers with network security solutions that shield the digital defences of businesses, regardless of size and type.
Trend Micro is a market leader in hybrid cloud, endpoint and network security solutions. Our partnership with Trend Micro enables us to ensure the best levels of protection, performance, usability and manageability for our customers' digital data.
COMPUTING, IMAGING & PRINTING SOLUTIONS
Our collaboration with HP spans over multiple levels and categories, including Printing, Computing, Supplies and Managed Services. Having obtained an HP Partner First Gold certification, as well as being recognized as HP authorized service providers, we are able to offer an extended portfolio of HP premium solutions and products to our customers.
We have over 10 years of partnership with Epson and today, apart from being certified as Epson Business Imaging Partner Gold, as well as authorized service providers, we are also recognized as the brand's No 1 installer in Greece, offering comprehensive Printing and Imaging solutions that help companies streamline their workflows, reduce expenses and, at the same time, protect the environment.
Infinitum is an authorized Partner of Fujitsu, aligned with the company's policy to focus on delivering IT infrastructure across desktop, mobile and data center environments, together with a full range of related services, from infrastructure consulting through integration and deployment.
SUCCESS TAKES CARE OF ITSELF.
IF EVERYONE IS MOVING FORWARD TOGETHER..